Dryer Vent Cleaning Mason, West Chester & Cincinnati, OH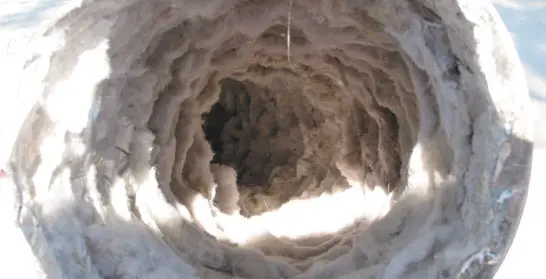 Tri-City Appliance Repair based in Mason, Ohio offers professional dryer vent cleaning services in Mason, West Chester, and throughout the Greater Cincinnati, Ohio.
Most dryer manufacturers recommend having your dryer vents inspected and cleaned at least once per year.  Clogged dryer vents, prevent your dryer from performing effectively and pose serious fire risks.  To ensure that your dryer is working efficiently and that the ventilation system is installed and working properly, you should routinely have your vents inspected by a professional service provider. Tri-City Appliance Repair offers inspection, cleaning, rerouting, and vent installation services.
The Dangers of Obstructed Dryer Vents
Experts estimate that there are over 15,000 dryer related fires in homes / structures in the U.S. every year.  Dryer fires can cause 100,000's of dollars in damages, serious injuries and even death. Many of these fires could have been avoided by a simple chore often over looked by Cincinnati home owners: dryer vent cleaning.  You can protect your home, family, neighborhood, and community by routinely having your dryer vents inspected and cleaned by professionals.
Dryer Vent Problems in New Homes
Traditionally dryers were located in basements or by outside walls, with relatively simple vent systems. Over the years this has begun to change and now many Cincinnati homeowners have their dryers located in places needing longer and more complex venting systems with many sharp turns and bends to accommodate the structure of the home.  The result is that there are more places inside the vent where lint can buildup and the vents are harder for home owners to clean.  It is increasingly important that new homeowners in Cincinnati have their dryer vents routinely inspected and cleaned by professional service providers.
Tri-City Appliance Repair has the professional tools needed to inspect and clean complex dryer venting. If a complex venting system poses a serious fire risk or other problem, we are able to re-route your vents in a manner that will keep your dryer working safely and efficiently.
Same Day / Next Day / Weekend / 24 Hour / Emergency Service
TriCity Appliance Repair is there when you need it most. We offer weekend appointments to fit your busy schedule as well as same day, next day, and 24 hour emergency service. We've built our brand offering fast, efficient, professional appliance repair services.
Warning Signs of Dryer Vent Clogs
Excess lint behind the dryer – clogged or obstructed dryer vents do not allow lint to properly pass through the ventilation system. This issue may result in excess lint buildup behind the dryer.
Longer drying times – if you've noticed that it is taking longer and longer to dry your clothes, this could be indicative of clogged or dirty vents.  Maintaining proper airflow in your dryer vent system allows for efficient drying.
Moldy smell in laundry room – a clogged dryer vent can create a breeding ground for foul smelling and dangerous molds.
Dryer overheating and shutting off – obstructed ventilation causes your dryer to work harder and does not allow for excess heat to be properly ventilated. Some dryers will shut off due to overheating to protect against home fires. If you're dryer is shutting off due to overheating, it is a warning sign that should not be taken lightly. Your dryer and vents should be immediately inspected by a profession if it is shutting down due to excess heat.
Too little or no lint on lint screen – While it may be hard to imaging that not having to clean your lint trap is a bad thing, if there is little to no lint on your dryer's lint screen, it may be indicative of an obstructed vent.
Dryer is hot to touch, clothes are too hot after drying – is your dryer hot to the touch while drying or immediately after the drying cycle? Are your clothes coming out unusually hot? Improper heat ventilation may be a sign that your dryer vents need cleaned.
Dryer Vent Service You Can Trust
Locally owned and operated
Licensed and insured technicians
Friendly, knowledgeable staff
In business since 1996
Prompt, on-time technicians
No service charge when we complete your repairs
Same day / next day / weekend / 24 Hour Emergency Service
Stellar Reputation
We treat your home like it is our own
Service Area:
Are you in need of dryer vent cleaning in Mason, West Chester, or anywhere else in Cincinnati, OH? Call Tri-City Appliance Repair today! Count on our experienced technicians to make the right call every time. Tri City Appliance Repair services appliances in Mason, OH, Greater Cincinnati and North Kentucky. Our dryer vent cleaning service area covers all areas within a 40 mile radius of Mason. For more information visit our Service Area page or call today (513) 370-4865.