Tri-City Appliance Repair – Water Heaters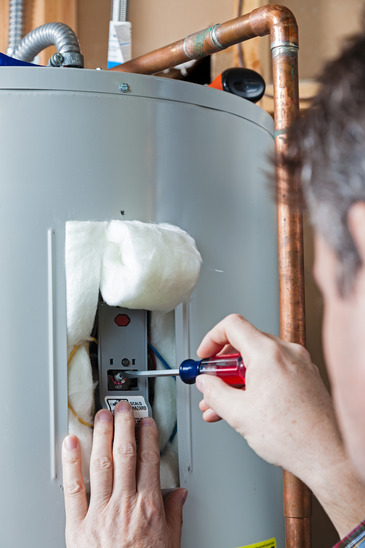 Water Heater Repair Service
Is your water heater broken, malfunctioning or in need of repairs? Water heaters are one of the most essential appliances in a Cincinnati home. When you're hot water tank is broken, you need a company you can trust to get the job done right.
The highly skilled, expert, repair techs at TriCity Appliance Repair are trained to work on all major brands, makes, and models of water heaters. From malfunctioning thermostats, to tanks not heating up, we're here to help. We strive to save you money by offering affordable repair services and will never try to sell you a new unit, when your current water heater can be repaired.
Our appliance repair techs will diagnose your water heater's problems on site and offer an estimate on repairing your machine before we begin any work.  Our expert technicians provide superior dishwasher repair services by taking the extra steps to ensure that your home is protected and that the job is completed correctly the first time.
Unlike our competition, with TriCity Appliance Repair you will never pay a hidden free to service or repair your water heater, and we waive the service call fee when we complete your repair.
Same Day / Next Day / Weekend / 24 Hour / Emergency Service
It sure seems like hot water heaters pick the worst possible times to malfunction. We understand the urgency of broken or inefficient water heater, and are there for you when you need us most! We offer weekend appointments to fit your busy schedule as well as same day, next day, and 24 hour emergency service. Our technicians show up on time, and we keep our trucks fully stocked with common parts to allow for most repairs to be completed in the 1st visit. We've built our brand offering fast, efficient, professional services to each and every single one of our customers.
Common Water Heater Problems
Tank not producing or producing very little hot water
Malfunctioning thermostat
Foul smell / odor coming from water heater
Leaking water tank
Low rumbling noise
High pitched squeak coming from water heater
Rust colored water
Broken top or bottom heating element
Leaky connection pipe
Water is too hot
Pilot will not light or stay lit
Broken dip tube
Leaky Valves
We Service and Repair
Gas Water Heaters
Electric Water Heaters
Propane Water Heaters
Gas High Recovery Water Heaters
Energy Star Water Heaters
Tank-less Water Heaters
Service Area:
Tri City Appliance Repair services appliances in Mason, OH, Greater Cincinnati and North Kentucky. Our service area covers all areas within a 40 mile radius of Mason. For more information visit our Service Areas page or call today (513) 370-4865. Our service area includes but is not limited to:
Testimonials:
" It is my extreme pleasure to write this review for Tri-City Appliance Repairs. My water heater had been acting a little a strange for a few weeks and wasn't producing the same amount of hot water as it had in the past. I didn't think much of it, until I awoke in the middle of the night to my tank making a strange high pitched sound, and huge puddles of water in my hallway! It was 4 days before Christmas, and I was set to have overnight guest arrive that afternoon.

I was frantic. With the holidays I was on a tight budget, and I couldn't find anyone who could come to Lebanon that day to take a look at my heater. A friend recommended I call Tri-City, so I did, expecting them to tell me that they couldn't come either. But I was wrong. They sent a repair tech in the middle of the night.

At this point I was ready to break the bank and buy a new unit if I had to, and I fully expected the tech to tell me that's what I needed.  Again, I was wrong! I'm not exactly sure what they did, but within 45 minutes he had my tank's leak fixed and replaced a heating unit and my heater has worked like new ever since.  The guy even helped me to soak up my puddles! If anyone ever asks me, you can bet that I will recommend Tri-City Appliance Repair. Theses guys blew my expectations out of the water! (pun intended)" – Jannette Longfello Lebanon, OH
Special Offer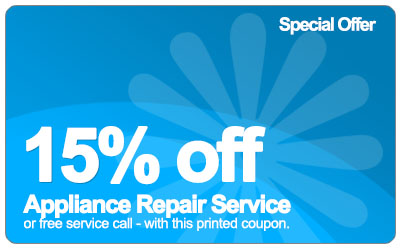 Same Day Service
Our appliance repair technicians are expertly trained to repair almost any appliance inside or outside of your home. You can trust the experience of Tri-City Appliance Repair to get the job done right. With our
same day
, next day, weekend, evening and
24 hour emergency appliance repair services
, you can count on us when you need us most!
View Service Areas